ION electrical meters were originally developed by Power Measurement Inc, which later became part of Schneider Electric family. All ION meters are built on so-called ION architecture – Integrated Object Network – a very flexible and powerful software framework.
Thanks to ION architecture one ION device simultaneously can operate as:
electrical meter
power analyzer
programmable logical controller
serial-IP interface
protocol gateway
As one might expect, ION meters do measure electrical network parameters with high precision (up to Class 0.1).
ION meters constantly monitor the quality of electrical voltage and current to detect possible power disturbances: undervoltage, overvoltage, sag/swell, harmonic distortion, transients. Although many meters provide some power quality metrics, e.g. total harmonic distortion or THD, ION meters do it in a very detailed way. For example, they calculate voltage and current harmonics up to 127th order and for sag/swell and transient analysis they capture the measured signal waveform as often as 30,000 times per second. Power quality analysis can be performed according to EN50160 and IEC 61000-4-30 Class A standards.
ION meters can be equipped with digital and analog inputs and outputs, which can be monitored and controlled in PLC-like fashion. It is possible to build complex relay switching logic or even implement a PID loop in ION.
ION meters can integrate multiple protocols to send and receive information. Their main protocol is always the native ION available in IP and RS-485 versions. Various ION models support serial protocols (Modbus RTU, DNP3, LonWorks, Profibus DP) and Ethernet protocols (Modbus TCP, DNP3 TCP, IEC 61850, DLMS/COSEM). They can store captured waveforms in COMTRADE format on built-in SFTP server, send alarms to SNMP traps or to e-mails, synchronize time via NTP, PTP or GPS, create redundant network loop using RSPT (Rapid Spanning Tree Protocol). Serial devices with ION or Modbus protocol working via RS-485 can be connected to IP network via ION EtherGate feature.
ION meters are the key element of EcoStruxure Power, Schneider Electric integral system for electrical installations. They are often accompanied with Power Monitoring Expert (also known as PME), a specialized SCADA system. Although ION meters can communicate with multiple protocols, their full functionality can only be accessed with proprietary ION protocol. Until now PME was the only software which can 'speak' ION and utilize the full power of ION devices. Now their power is open to Tridium Niagara.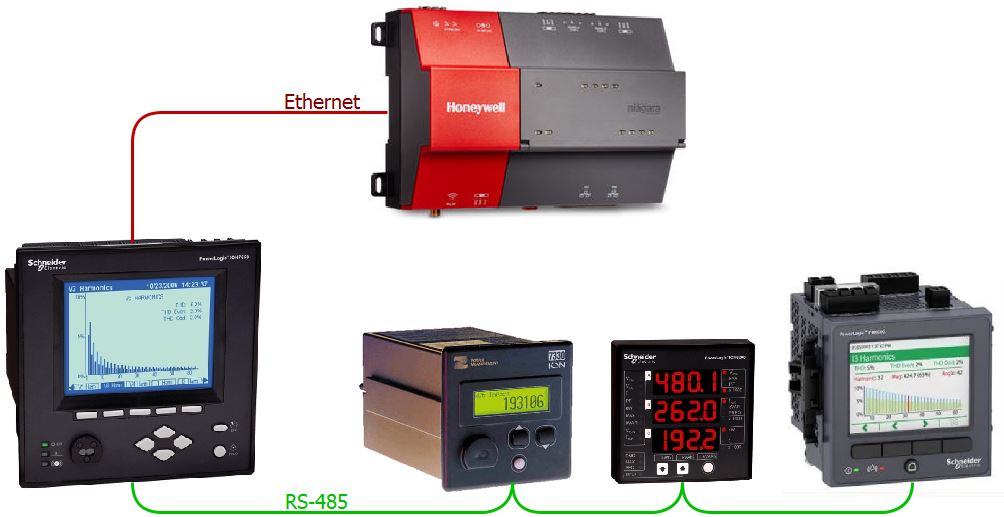 ION driver for Tridium Niagara allows to leverage a full range of ION metering features. Although ION meters can be configured to communicate via Modbus, only ION protocol provides access to all features like:
advanced real time data
data recorders
waveforms
With ION driver for Niagara AX and Niagara 4 frameworks one can build a fully-functional power management system with unprecedented analytical capabilities.
Additional information